It has been reported that several merchants swipe customer cards for second time at their point of sale (POS) or cash register, immediately after the card transaction is approved after first insert/swipe of the card at a POS.
During the process of above mentioned "Double Swipe", merchants, possibly, collect vital card payment details and cardholder' personal date on magnetic stripes, ostensibly for their internal accounting purposes and or marketing purposes.
Such activities by merchants may lead to malpractices and card frauds.
All customers are advised to immediately bring it to the notice of the bank either personally to their base branch or on email –"it.oman@bankofbaroda.com" in case of "Double Swipe" of their cards at merchant outlets.
Don'ts of Debit Card Operation

Never lend your card to anyone, even to your close relative/friend or even if anyone claims to represent the Bank.
Do not write your PIN on the Card or the back of the Card.
Never share your PIN with anyone including a family member or Bank personnel or in response to requests through email/FAX etc.
Never carry your PIN in your wallet or purse. Never let anyone see you input your PIN.
Never use a PIN that could be guessed easily, e.g. your birthday or telephone number.
Never leave your card in the ATM.
Never leave your card unattended, e.g. in the car, in a hotel room or at work or at merchant establishments.
Do not respond to any E-mail purported to have been issued by Bank asking for your Debit Card PIN. These are called PHISHING attempts. At Bank of Baroda, we honour the trust reposed on us and will never seek personal details like PIN etc. for any purpose.
Don't give information regarding your Debit card or PIN over the telephone to anyone.
Never enter your PIN in any ATM that does not seem to be genuine or seems modified/has a suspicious device attached/operating in a suspicious manner.
Don't display your cash; count the cash, keep it in your pocket safely and leave the ATM.
Don't accept assistance from anyone or from the security guard when using an ATM.
When disposing of old receipts and statements, don't use public waste receptacles.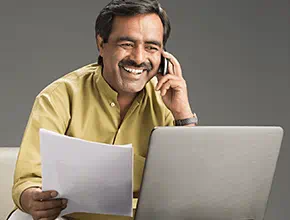 Request Callback
Please fill in these details, so we can call you back and assist you.